4 Money Reasons Homeowners Are Leaving California (And Where They Are Buying Homes Instead)
---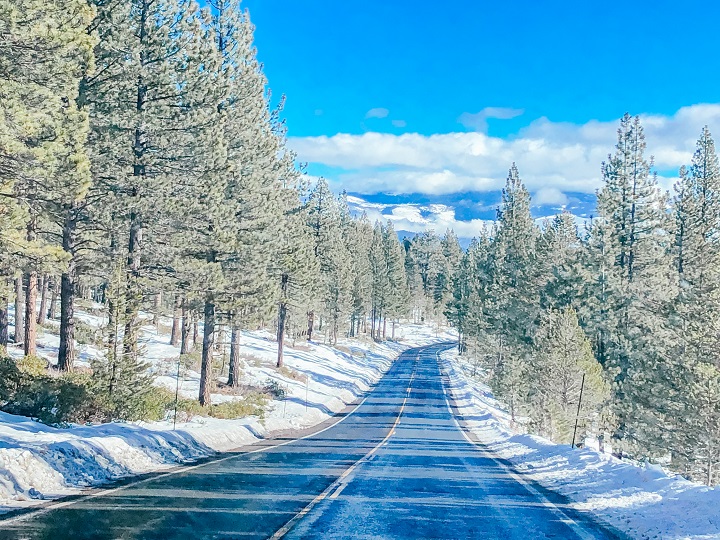 California is great in so many ways. From the redwood coasts of Santa Cruz to the alpine majesty that is Lake Tahoe, our geography is world-class. With Gold Rush ghost towns and port cities built on the dreams of immigrants, our history is diverse and inspiring.
And like the pioneers of California before us, we work hard. If this state were a country, we'd have the 5th largest economy in the world. Unemployment is the lowest it's been in 50 years at 3.6% and here in Grass Valley we are doing even better with a jobless rate of only 2.9%. With a million different places to visit, explore, and make memories, this land we call home is 100% worthy of its official nickname, the Golden State.
Yet, an exodus is occurring. Many people are feeling the pinch of rising costs and I want to let you know that I understand. You are not alone and it most definitely is not all in your head.
According to the United States Census Bureau 691,000 people left California in 2018, part of a 7-year trend with more people moving out of state than moving into it, according to NBC Bay Area.
With so many reasons to experience California why are so many of us leaving the Sunshine State behind?
Here are 4 common deal breakers for (previous) California residents.
California Housing Costs Are More Than Double The National Median
The US Census Bureau cites the average home price in California at $605,280 as of 2019, as the graph below shows. It turns out that a half-a-million dollar price tag excludes a lot of people.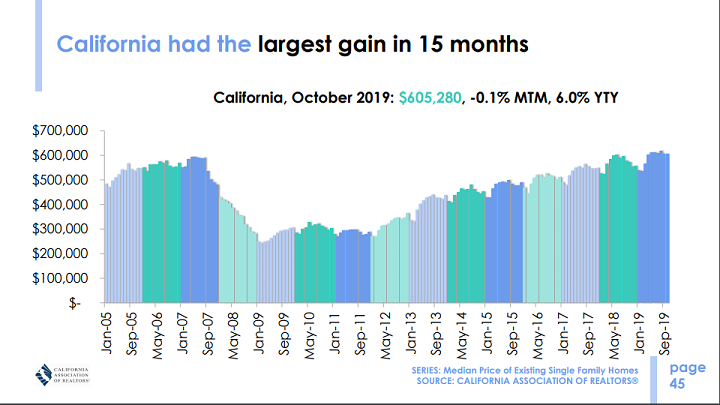 The team and I attended a recent presentation by the Nevada County Association of Realtors titled 2020 Economic Forecast and Housing Market Analysis where we learned that only 31% of Californians are able to purchase a median-priced home. In comparison, the national average is 56% (see graph below).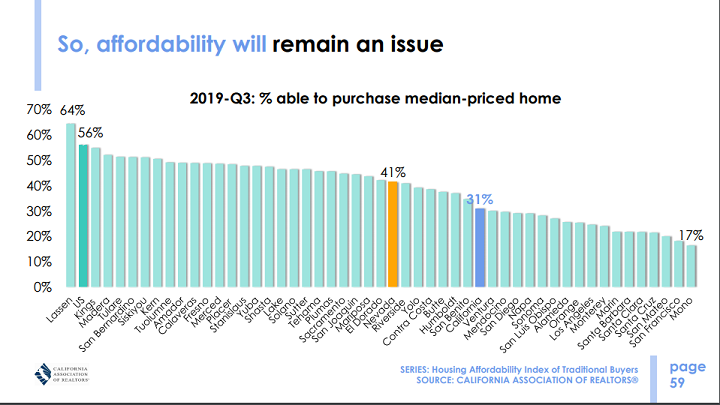 This means that less than one-third of Californians can take part in the American Dream of homeownership according to data presented by Jordan Levine, Deputy Chief Economist with the California Association of REALTORS.
High housing costs are having a big impact on our desire to put down roots here. According to a UC Berkeley poll 52% of registered voters in California have considered leaving the state, with a whopping 71% of respondents citing high housing costs as the main reason.
Cost Of Living In California Is Second Highest In The Nation
Paying $8 for a gallon of milk, no one would be surprised to learn that Hawaii has the highest cost of living in the US, but did you know that California comes in second place? If you live here, I bet you do.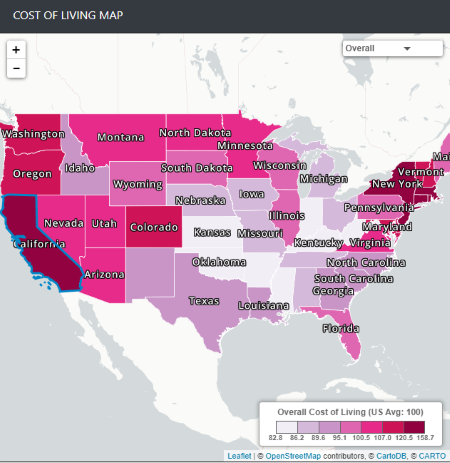 While our cost-of-living score is largely based on high housing costs, we still have the highest average gas prices in the country ($4.09), the sixth-highest average annual car insurance premium, and our cities lead the nation in inflation. With the average national cost of living score being 100, California comes in at 149.5 according to Sperling's Best Places.
As a Nevada County Realtor, approximately 70% of my clients who sold houses last year moved to another state. Their main reason? Seeking more financial freedom through a lower cost of living. This applies to retirees more than most because life on a fixed income is stressful enough. On the flip side, a HUGE positive for homeowning retirees is the ability to sell high in California and buy low in virtually every other state (or buy a boat and sail the world like a Grass Valley couple I worked with in 2017).
And the hot dry summers we love bring special financial challenges for us Californians due to devastating fires and a the recent high fire risk crackdowns. These include many residents finding home insurance cancellation notices in their mailbox as well as the uncertainty of intermittent power shut-offs by PG&E.
California Has High Taxes
Let me start by saying that California has one of the lowest wine taxes in the country (44/50) so it's not all bad. But we do have the 6th highest state/local tax burden, as the below graph shows.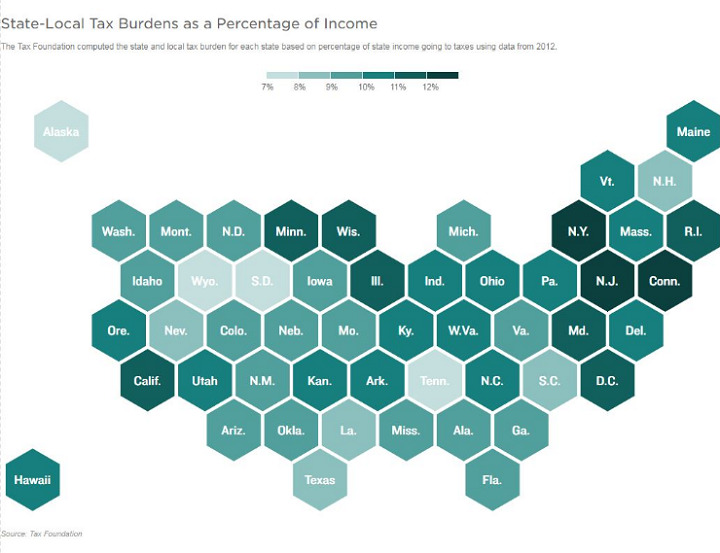 The top tier income tax rate is also the highest in the nation at 13.3%. This applies to Californians who make over $1 million annually, which is 61,000 households out of a 16 million total. We also have the highest sales tax in the nation, which has been reason alone for many Californians to relocate to states without sales tax such as Oregon, Montana, and Delaware.
And because I watched gas prices go up this weekend I'll quote the National Review, "California recently raised gas taxes by 40 percent and now has the second-highest gas taxes in the United States."
Millennials are leaving the state because of high taxes as well. In an analysis of 200,000 millennial investors, of those planning to leave, half are planning a move to a state with lower taxes while 14% are seeking states without property taxes and 1 in 3 are moving to states without income tax.
California Is Not Business Friendly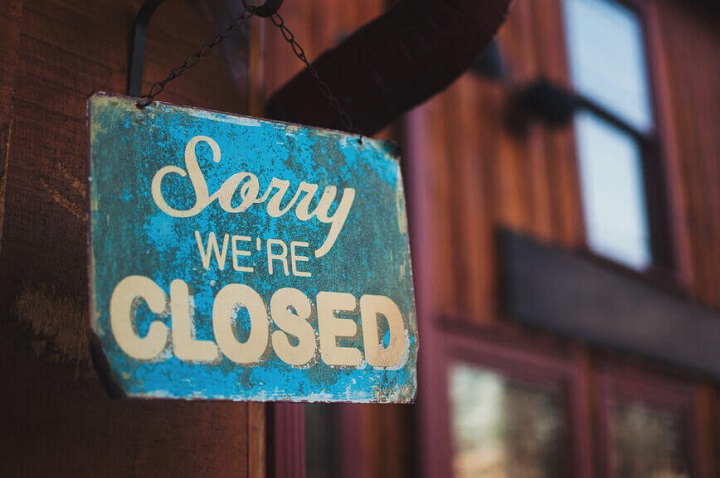 CNBC put out a business report card last July and while California earned an A+ in innovation, technology, and access to capital, the state received an F in business friendliness as well as the cost of doing business.
The Pacific Research Institute calls our business policies "California's pursuit of an anti-business climate" while the Tax Foundation ranked the state second to last on the 2019 State Business Tax Climate Index.
And new anti-freelancing laws known as the California gig worker law is only adding to the frustrations as many Californians working as independent contractors are fearing layoffs. If you might be affected by Assembly Bill 5 it is worth following the current lawsuit by freelancers against the state.
Speaking of entrepreneurs, California's $800 franchise tax and double income taxation are real issues for many people wanting to start or maintain a small business. However, Corpnet CEO Nellie Akalp said it well, "Every state has its advantages and its disadvantages to any small business owner setting up a business...If you are a small business owner, chances are that you do not have as much flexibility and discretion in deciding where to set up your new business."
Where Have All The Californians Gone?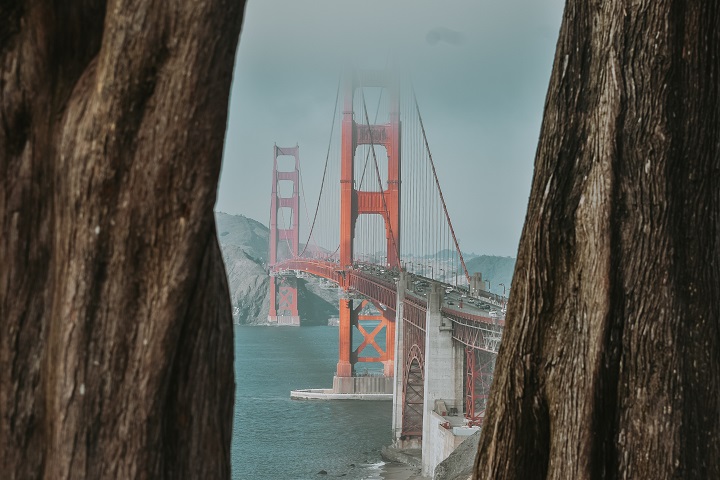 It's a highly personal thing, deciding where to relocate one's life. Everything from family, to weather, to work, play, and even mineral content in the soil might be the reason for crossing one state line and not another. Trends exist however, and the most popular relocation destinations include higher buying power and lower population density than California. So read on and see if any of the top moving spots surprise you.
*Cue drumroll*
Of the 691,000 people who left California in 2018:
86,164 people moved to Texas

68,516 people moved to Arizona

55,467 people moved to Washington

50,707 people moved to Nevada

43,058 people moved to Oregon

28,288 people moved to Colorado

26,888 people moved to Florida

25,255 people moved to New York

21,210 people moved to Virginia

21,018 people moved to Idaho
Conclusion
To recap, California is wonderful and expensive (as if you didn't already know!). Many Californians have put down roots and wouldn't dream of living anywhere else, but for others, the high-and-rising costs of living here are too much to justify. However, packing up and moving to another state is a bundle of stress in itself.
That's why I am here to help. Getting ready to sell your home? Stay tuned for next week's article on best moves for boosting your home's value at different price points. You might be surprised at what home improvements are--and are definitely not--worth your money and energy.