A Countdown of the Top 7 Reasons Your Home Is Not Selling (Yet!)
---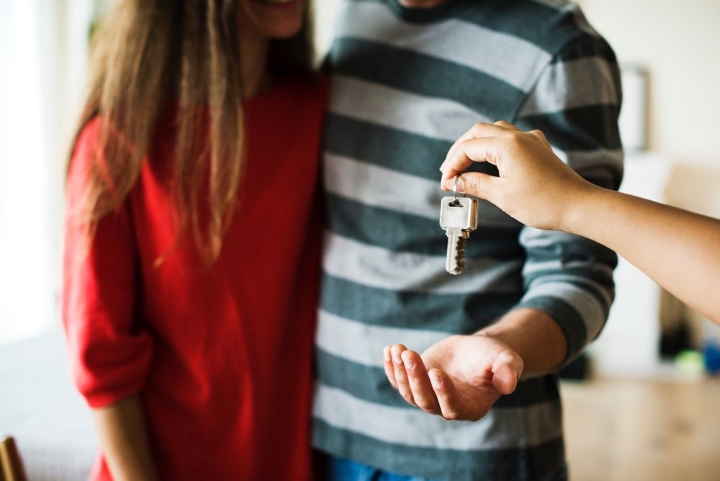 Selling a home is a brave decision. You are essentially putting your life on display for strangers to judge your living space with the power of their pocketbooks. This can be absolutely nerve-wracking for sellers, first timers and seasoned pros alike.

Selling a home is a big decision. It's packing up and saying goodbye to your nest, hoping to get the sales figure you need to write the new great chapter of your life.

Selling a home is an exciting decision. Signing on with a motivated agent ready to market your home to the world, looking out your window and seeing that For Sale sign beside the driveway, getting things cleaned up, packed up, and stashed away as you prepare for showings. Day-to-day life becomes busy as a beehive now as you prepare to offer a hopeful buyer their new dream home and make yourself a boatload of money in the process.

Occasionally though, the market responds with the chirp of crickets. Or house shoppers show up but do not bring in any offers. Enthusiasm gives way to stress as you start to wonder just what the heck is going on. And the wondering...it doesn't stop as the number of days-on-market increases, telling buyers that something might be wrong with your listing. It is a perpetuating cycle: the more you home does not sell, the more it does not sell.

The good news is it's easy to diagnose what's keeping a home from selling. Let's explore the top reasons.
#1. The price Is too high for the market
Just about everything right and wrong with a home is offset by the price. What a house is listed for is literally the most important factor when it comes to eyes--and showing appointments--on your home. According to Rochester, NY agent Kyle Hiscock "Pricing does the majority of the marketing of a home, between 80-90%."
Pricing is everything because a major draw of homeownership is about building equity, and no one wants to start out in the hole when it comes to the worth of something they own. The internet has made us very savvy when it comes to finding and comparing things we want, and when it comes to houses buyers will not look at a home that is overpriced. Things get complicated fast when we pair this reality with the fact that 50% of top agents surveyed stated that the biggest challenge their sellers face is the temptation to overprice their home.
A great starting place on the importance of realistic pricing is this article on the damaging effects of overpricing a home. Next, the best and easiest way to lock down an asking price is working with an expert REALTOR who will perform a comparative market analysis (CMA) which is the market data you need to get the most money in the shortest time possible. A CMA compares your home with recent local sales to determine its fair market value, much like a bank appraiser. Data proves without question that pricing a house based on this number gets a home sold quicker and at a higher price than starting out high in hopes of snagging a dream buyer or dealing with a dragged out negotiation process where the asking price is chipped away at.
#2. Photos aren't pro quality
How many people browse online for homes? The answer is: all of them. According to the National Association of REALTORS Research Group (4)(NAR) "98% of Older Millennials search on online websites compared to 89% of boomers." This means that the majority of homeshoppers (84%) start out online before taking any "brick and mortar" steps like visiting open houses or contacting a real estate agent.
90% of home buyers surveyed say high-quality photos are the most important factor when it comes to getting excited about viewing a home in person. This is HUGE! Another big factor to think about is that 42% of internet home shoppers find virtual tours very useful while 24% feel the same way about video, which proves that photos truly are the windows into your home listing!
The solution is to use a pro who includes staging services to show your home in its best light, literally.
Here is a great article on the nuances of high-quality home photography: How to Take Real Estate Photos That Will Sell Your House 32% Faster
#3. Not listening to showing feedback

Sure, criticism is a hard pill to swallow but it truly is the best way to take your buyer market seriously. These are the people interested enough to visit your home and consider buying it if not for a certain issue, which often is an easy fix.

You want a seller's agent who is adamant on following up with buyer's agents after a showing. It is wise to take repeat comments seriously, anything from foul odors to overly dark rooms to the listing price.


#4. It is not prepared to show
A clean, maintained, packed up, staged home is the way to make a great first impression for shoppers.

First things first, a clean home is expected while a dirty home is often seen as a red flag. To a potential buyer, dirty dishes left in the sink or a bunch of burnt out lightbulbs suggests that bigger issues might be lurking beneath the surface, even if that is definitely not the case! Even so, it makes sense, right?

The best solution is to hire a professional cleaner because we stop seeing many of the issues in the home we live in. Doubly so for maintenance. Handprints on the walls, scuffed baseboards, that light fixture needing exactly two screws and twenty seconds to mount to the wall...these things become invisible! The idea (after professional cleaning) is to walk through your home with new eyes, seeing what a potential homebuyer will see. This is another great reason to have a sharp-eyed agent working on your case as well, she sees all the places where elbow grease translates the best possible showing.

Another factor worth considering is if your home is too personal. In his article How To Sell A Cluttered Home Bill Gassett states, "Buyers want and need to see the full potential of your house to picture themselves in it, but that can be difficult to do when it is covered up in your things—no matter how important they may be to you."

The final touch is staging. We have come to learn that it is very important for a homebuyer to be able to imagine the house for sale as her own, right? Well, according to NAR 83% of buyers' agents said staging a home made it easier for a buyer to visualize the property as a future home, while only 6% of agents claimed that home staging had no effect on the buyer's view of the home.

Here is the kicker: While the average spent on staging a home is only $400, 39% of seller's agents reported a dollar value increase of 1-10% offered by buyers!
#5. A smelly house
There's a saying in real estate: "If I can smell it, I can't sell it," says Memphis agent Joshua Spotts. "If you're immune to the smell of your home, get a friend's honest opinion."

Now, it might seem counterintuitive but more nice scent is not always better. I had a listing once that had a lot of interest from day one but was not selling. It was the showing feedback of a woman with sensitivity to air fresheners that inspired me to remove all the scented plug-ins around the house. It sold a week later.

The thing is home shoppers are on high-alert when hundreds of thousands of dollars are on the line, and it is all too common for a shopper to assume that a pleasantly scented candle is being used to disguise a less pleasant odor. The real solution is to address and fix the root cause of any bad smells, be them mildew, pet odors, smoke, or otherwise.
#6. Pets
Dave Ramsey says, "When your home is for sale, do your best to erase all signs that you have any pets." This jives with the data that 83% of REALTORS recommend that sellers remove their pets for showings.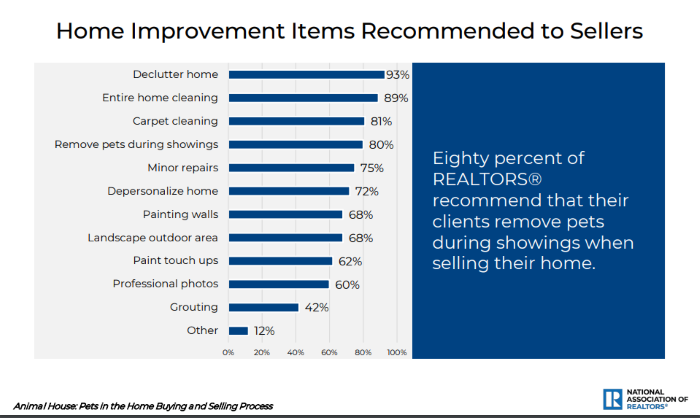 Home Light has a great article on selling a home with pets with advice specific to dog and cat owners. Besides cleaning up any stains inside and any poo outside, repairing pet damage, picking up pet toys and putting away bowls, a key point is to make a pet game plan for showings, for example, walking the dog, having a neighbor agree to pet sit, or even taking your pet on a drive around the block while your home is shown to buyers. Doing so is doubly-effective because it gets you out the home as well, leading us to reason #7 a home is not selling...
#7. Too much presence
It makes sense to want to be there when a potential buyer shows up to check out your home. After all, nobody knows your house better than you, right?

But think about it: how comfortable are you with making a big decision while being watched? And if we want them to imagine your former space as their new place, we want them as comfortable as possible.

According to Ramsey: "Get out of the way so the buyers feel free to poke around and discuss the pros and cons of your home. If you feel the need to communicate, leave a letter detailing your home's best points and the reasons you're selling. Your real estate agent can give you helpful advice on which features to highlight."